The Twilight Wife by A.J. Banner
My rating: 4 of 5 stars
The storyline kept me enthralled until the end. It had a unique twist and nothing I guessed or imagined prepared me for the truth. Experiencing memory loss is scary and the additional drama the character when through made for a heart-pounding tale. Enjoyed it!
View all my reviews
About the Book
From bestselling author A.J. Banner comes a dazzling new novel of psychological suspense in the vein of S.J. Watson's Before I Go to Sleep and Mary Kubica's The Good Girl that questions just how much we can trust the people around us. Thirty-four-year-old marine biologist Kyra Winthrop remembers nothing about the diving accident that left her with a complex form of memory loss. With only brief flashes of the last few years of her life, her world has narrowed to a few close friendships on the island where she lives with her devoted husband, Jacob. But all is not what it seems. Kyra begins to have visions—or are they memories?—of a rocky marriage, broken promises, and cryptic relationships with the island residents, whom she believes to be her friends. As Kyra races to uncover her past, the truth becomes a terrifying nightmare. A twisty, immersive thriller, The Twilight Wife will keep readers enthralled through the final, shocking twist.
Release Date: December 27, 2016
Purchase a Copy
Over the Edge by Meredith Wild
My rating: 4 of 5 stars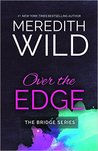 Whew! Can we say hot? This is my first book from this author and the first I've read a story involving a love triangle like this. I had no idea when I began the unique love story I was about to read. It isn't easy finding your way in a powerful family. Olivia had overprotective brothers and watchful parents. She had to stand up for herself and the men she loved. I had no idea I would be rooting for them to make it, but that is what happens when you have an author gifted enough to tell the tale. If an author is able to take you out your comfort zone into a genre you wouldn't normally read and keep you glued, then kudos to that author!
View all my reviews
About the Book
Olivia Bridge has always been a good girl—good grades, good friends, and a good job that her wealthy parents handed her. Desperate to carve out a life that is truly hers, Liv walks away from it all and takes on the challenge of helping her brothers open a chain of fitness centers in New York City. Just as she's beginning to find her footing in a new place, she's caught between two men who couldn't be more determined to turn all her goodness inside out.

Will Donovan has the capital to make the Bridge brothers' entrepreneurial dreams a reality. Taking their uptight sister to bed seems a reasonable perk for the risk. Liv is the smartest, sexiest prude Will's ever met, and he can't wait to break her down.

Life is too short for Ian Savo to play by anyone's rules. Sharing women with his best friend isn't anything new, so when Will introduces him to Liv, he can't wait to get a taste. But falling for the same girl, or falling at all, was never in the plans...
Release Date: November 22, 2016
Purchase a Copy