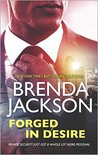 Forged in Desire
by
Brenda Jackson
My rating:
4 of 5 stars
Brenda Jackson has some plot twists and turns in this first book of the Protector series. She laid a good foundation for the other books. I wish I could meet Striker in the flesh. His romance with Margo was hot and sensual. The heat was off the Richter scale. I loved the suspense factor. There were so many killers in this story, and evidently there will be more murders to solve in the follow-up reads. There were so many characters and storyline strings that only a professional could keep the reader from getting confused. Instead, you could see a masterful woven of storylines that lead you to a HEA conclusion.
View all my reviews
About the Book
Strong enough to protect her. Bold enough to love her.
When good girl Margo Connelly becomes Lamar "Striker" Jennings's latest assignment, she knows she's in trouble. And not just because he's been hired to protect her from an underworld criminal. The reformed bad boy's appeal is breaching all her defenses, and as the threats against her increase, Margo isn't sure which is more dangerous: the gangster targeting her, or the far too alluring protector tempting her to let loose.
Though Striker's now living on the right side of the law, he's convinced his troubled past keeps Margo out of his league. But physical chemistry explodes into full-blown passion when they go on the run together. Surrendering to desire could be a deadly distraction—or finally prove that he's the only man qualified to keep her safe, and win her love.
Release Date: January 31, 2017
Purchase A Copy